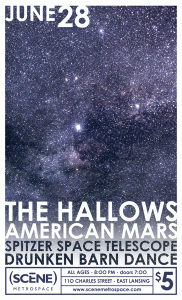 Hi All,
Good stuff coming up over the next two weeks. I've numbered them to make your scheduling efforts easier.
1) Tomorrow evening, June 25, AM opens for Clem Snide's Eef Barzelay at The Pike Room in Pontiac, MI (inside Crofoot). Doors are at 8pm and we should play around 9.
2) Thursday night, June 26, we'll be performing in-studio at IMPACT, Michigan State University's student run radio station. We'll be on between 9 and 10pm to play songs from Western Sides and to promote our show in Lansing coming up on Saturday, June 28 (see below). You can listen live here.
3) As mentioned above, we'll be performing at (Scene) Metrospace in Lansing on Saturday, June 28. Doors for this show are at 7pm; music starts around 8.
4) Our very dear friends Sunshine Doray will celebrate the release of their most excellent self-titled debut this Sunday, June 29 at Cliff Bell's in Detroit, MI. Music starts at 9pm. We'll be there as admirers although it's possible Feeny will make an appearance on stage with an instrument or two.
5) Next Tuesday, July 1, AM will perform a few songs on Ann Arbor's 107.1fm as guests of host Martin Bandyke. We'll be on between 9 and 10am (for you earlybirds) to play some tunes and to talk about our show at The Ark on July 3 (see below). Listen live here.
6) We are extremely pleased to be making our debut at The Ark in Ann Arbor, MI on Thursday, July 3, opening for Chuck Prophet. Doors are at 8pm with music shortly thereafter. The Ark is a smoke free listening room that we've been fans of for many years so please consider coming out.
7) Finally (for now), we will be peforming at Detoit Cityfest on Sunday, July 6, at 6pm on the Park Stage. There's lots of great music at this year's festival, including Calexico, De La Soul, Broken Social Scene, and George Clinton. Should be a great time.
Peace,
Thomas