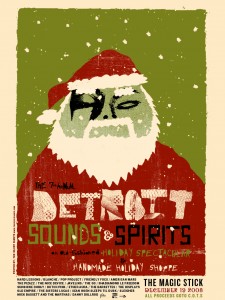 I just received the press release from the folks over at Thom McCann and Towne Club regarding this year's Sounds and Spirits Spectacular. I didn't know we were playing!! Check out the release:
FOR IMMEDIATE RELEASE
December 4, 2008
The 7th Annual Detroit Sounds and Spirits Old-Fashioned Holiday Spectacular
Friday, December 19
The Magic Stick
4140 Woodward-Detroit
$15, 18 and over
8pm
Metro-area Thom McCan Shoe Stores and Town Club Soda Distributors are pleased to announce the 7th Annual Detroit Sounds and Spirits Old-Fashioned Holiday Spectacular on Friday, December 19 at Detroit's Magic Stick.
The Sounds and Spirits Spectacular is the Detroit rock community's biggest holiday event.  In homage to Christmas variety shows of yesteryear, the Spectacular features over 20 bands on two stages, celebrity emcees, and new this year, the 'Handmade Holiday Shoppe,' which will feature a bevy of DIY crafters selling their wares for last minute stocking stuffers.  Special guest hosts this year are Gangplank Recording artists Phil Hall and Kevin Oates, twin brothers of famed chart toppers Hall and Oates.  Phil and Kevin will be on hand to host the show but they'll also perform a few of their famous brothers' hits, sure to include, "Maneater," "Private Eyes," and "I Can't Go for That (No Can Do)."
The first Spectacular was held at C-POP Gallery in 2002 and was conceived as a classy sweater and scarf holiday cocktail party hosted by Blanche, American Mars and Sunshine Doray, all confessed suckers for the Christmas pageantry of television's second golden age: the 1970's.  It now features many collected original video vignettes, a variety of emcees and a whirligig of the city's best and brightest bands all performing just one holiday classic.  The 2002 show, which sold out in five minutes and featured a now legendary appearance by Jack White, was so successful that the 2003 show was moved to the more spacious environs of the Magic Stick.  Now for one night each year, the Spectacular turns the Magic Stick into a rock and roll Christmas palace and it's the perfect reason for Detroit's musicians to collaborate and enjoy a yuletide tipple.
All proceeds from the Spectacular will benefit Detroit's Coalition on Temporary Shelter (COTS). Since 2002, the Spectacular has raised over $15,000 for the Detroit-based organization, which provides emergency shelter and transitional housing for single men, women and families with children who need assistance in becoming economically self-sufficient.
Bands scheduled to perform include:


The Hard Lessons – Blanche – Pop Project – The Javelins – Friendly Foes – American Mars
Sunshine Doray – The Nice Device – The Go – Shadiamond le Freedom – Dutch Pink – Ether Aura

The Barrettes – The Displays – Old Empire – Loretta Lucas – Sean Hoen Sleeps Til Dusk

Mick Bassett and the Marthas – The Pizazz – Danny Dollrod
    
The Magic Stick is located at 4140 Woodward Avenue in Detroit and can be reached at 313.833.9700. Admission to this event is $15, 18 and older please. Doors open at 8pm with festivities commencing promptly at 9pm. Celebrants are encouraged to bring a dish to pass.


For More Info Contact:
David Feeny, Tempermill Studios

Tempermill@aol.com or 248.399.0550

www.tempermill.com
Ramona Shureb, Majestic Theatre Complex
ramona@majesticdetroit.com

www.majesticdetroit.com


Coalition on Temporary Shelter (COTS)

www.cotsdetroit.org